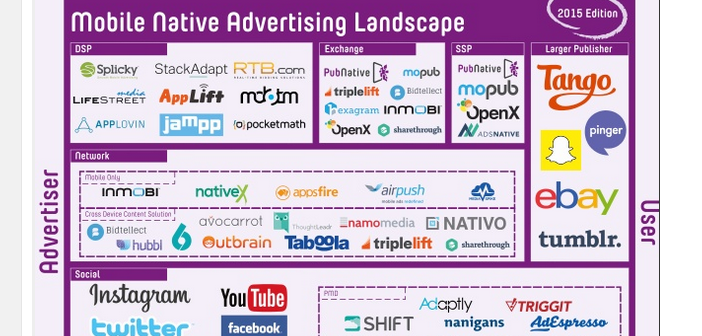 In een tijd waarin merken uitgevers willen worden en de consument vraagt om eerlijke authentieke communicatie is native advertising het logische antwoord.
Met native advertising wordt de merkbelofte en de communicatieboodschap van het merk verteld in de tone of voice en opmaak van de website van de uitgever of socialmedia platform waarop geadverteerd wordt. Dit zorgt voor een hogere engagement bij de bezoeker en biedt nieuwe omzetkanalen voor uitgevers. Zeker voor de kleinere mobiele schermen wordt native advertising als een minder opdringerigere vorm van adverteren gezien dan volledig schermvullende push advertenties. Bekijk het ´Mobile Native Advertising landschap´ in onderstaande afbeelding gemaakt door Pubnative.
Geïnteresseerd in de uitkomsten van een onderzoek van Havas Media en Weve onder 3.000 social- en mobiele gebruikers over Native Advertising onder millennials? Klik dan hier.