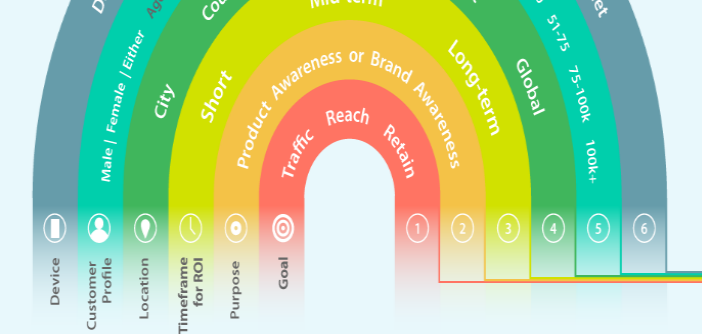 Het bepalen van een digitale marketing strategie begint met  het formuleren van doelstellingen en het maken van keuzes in media en middelen.  Er zijn 6 pijlers ('layers') en 5 digitale channels die de basis vormen van een geïntegreerde digitale marketing strategie. Het Digitale Marketing Strategie platform kan je helpen met het bepalen van deze keuzes.  De bijbehorende metrics/KPI's geven niet alleen inzichten of je op de goede weg bent maar vormen ook interessante variabelen om je strategie verder te optimaliseren en je ROI (Return on Investment) te bepalen.
Het model onderscheid 6 'layers' ook wel pijlers genoemd die de basis vormen van een digitale marketing strategie:
1. Device (mobiel, tablet, desktop)
2. Doelgroep/Consumentenprofiel
3. Locatie
4. Timeframe van ROI (Return on Investment)
5. Brand Awareness of Product Awareness
6. Online doelstelling(en)
Na het bepalen van de doelstellingen zijn er 5 digitale channels waarop het digitale marketingbudget verdeeld kan worden; SEO (Search Engine Optimization), PPC (Pay Per Click), Social, Content en E-Mailmarketing. De channelkeuze is o.a. afhankelijk van je korte en/of lange termijn strategie, directe response en/of branding doelstellingen.
Zo is e-mailmarketing gunstig in te zetten voor retentie en herhalingsaankopen. SEO is weer interessant voor een lange termijn strategie. Het Pay Per Click/PPC model waaronder ook SEA( Search Engine Advertising) en display bannering op basis van response gerekend mag worden is weer nuttig en relevant voor korte termijn succes. Voor elke digitale channel gelden weer bijpassende metrics om je ROI te bepalen en te optimaliseren. Bekijk het totaaloverzicht in onderstaande afbeelding.
Ben je geïnteresseerd in welke online middelen/channels je moet inzetten voor acquisitie nieuwe klanten? Check dan zeker even dit artikel met bijbehorend onderzoek.
bron:econsultancy