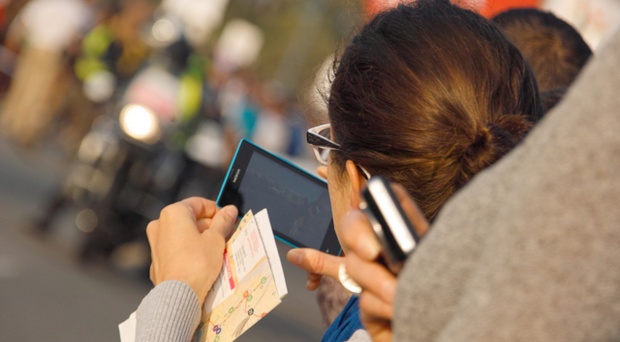 Uit een nieuw onderzoek van Business Insider blijkt dat 'Geo Fenced Ads'; Dit zijn advertenties die zich richten op alle gebruikers binnen een vooraf ingestelde straal van een bedrijf met dezelfde reclameboodschap interessant zijn voor meerdere adverteerders segmenten en hoge CTR's opleveren. Een 'click to map' (20%) werkt hierbij het best gevolgd door 'click to call' (18%) en "Click to view product' (14%). De adverteerdersbranches waarop deze vorm van location based targeting op dit moment het meest worden ingezet zijn met name de retailers(kleding springt er uit), fastfood restaurants en bedrijven in de telecommunicatie.
Er zijn verschillende vormen van location based advertising:
– Geo Aware Advertenties
– Geo Fenced Advertenties
– Designated Market Area Advertenties
– Audience Location Based Targeting Advertenties
Lees meer over deze vormen van Location Based Targeting, welke CTR's hiermee behaald worden en de relevantie  van deze vormen van adverteren inclusief voorbeelden hier.
Zie hieronder in welke branches met name 'Geo Fenced Ads'worden ingezet.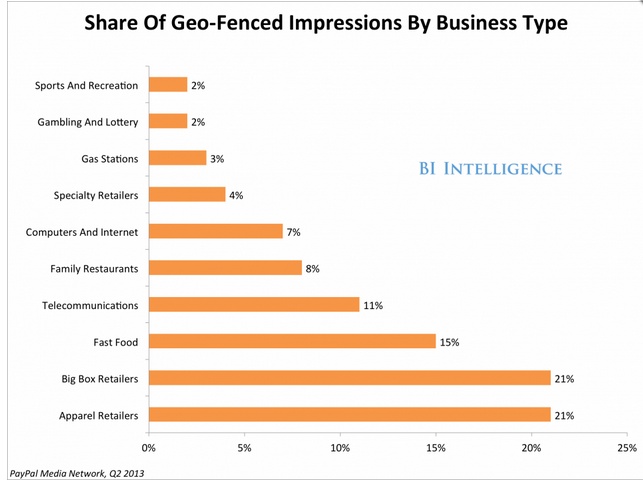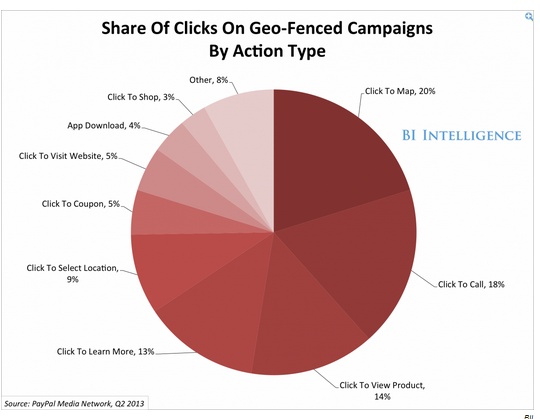 Geïnteresseerd in de 10 essentiële tips voor een mobiele advertentiecampagne? Klik dan hier.
bron:businessinsider
photo:jamiecat(cc)